Mega Fortune Slot Review
If you want a top progressive, then Mega Fortune from NetEnt is going to be right up your street. In fact, this is the most popular progressive in the world, with the ultimate jackpot often stretching into the tens of millions of dollars. This is one of our favourite slots of all time. Let us tell you why.
The Basics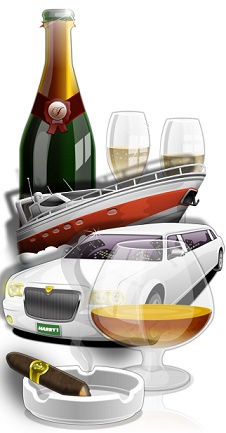 Mega Fortune is a 5-reel, 25 pay line slot. Minimum bet per spin is 25c. The maximum is $50. It is going to be a slightly higher volatility slot than you may be used to, simply because NetEnt need to take some of the money the game is making and put it to one side to cover that multi-million dollar jackpot.
The Theme
The theme of Mega Fortune is bland. You can tell a lot more effort was put into the design of the gameplay rather than the symbols and the like. They are nothing more than luxurious items that you could potentially buy if you were a millionaire. We suppose that it fits in with what the game wants to do, but this is not the type of game we would be playing if there was not a lot of cash on the line. What would be the point?
The Mobile Game
There are two versions of Mega Fortune. The mobile version of the game is known as Mega Fortune Touch.
It plays exactly the same as Mega Fortune, and it even shares the same jackpot, but it has been spruced up a little bit to look better on mobile devices. We must tell you that it is a smooth playing experience too. The game even removes some of the blandness of the symbols.
We love the fact that you can potentially become a multimillionaire during your morning commute. We are not sure we would be going into work if we won £20 million on the bus!
Free Spins
There is a free spins game mode to be found in Mega Fortune, and you are going to be triggering it a lot. It is unlikely that you will ever win that much from the free spins game mode, but it is nice to have a bit of extra cash in your pocket, particularly since many of the spins that you will be having on the reels will be 'dead spins' i.e. you won't be winning anything. It is not uncommon to go 20-30 spins without a win on Mega Fortune, but when you do win some cash it is going to be a nice amount.
Anyway, you need three champagne symbols to trigger this game mode. It is not that predictable. You can earn up to 10 free spins and a 5x multiplier, although you will often be given a lower amount.
That being said, even 2 to 3 free spins are always lovely. It gives you a nice break from hammering into your bank balance. You also have the opportunity to trigger more free spins or trigger the bonus game, which is going to be great.
Mega Fortune Bonus
To win the bonus available on Mega Fortune, you need to get three of the wheel bonus symbols on the reels. They need to be on consecutive reels. You will then be taken to a huge reel which is made up of three different reels (sorry if that sounded confusing!)
You will have up to three spins on the reels. Your goal is to get the pointer to stop on one of the arrows. This will allow you to progress towards the centre wheel where the big prizes are. It is tough.
Thankfully, there are some sizeable cash prizes on offer here. Sure, if you do get a cash prize, the game is going to end. However, at least you are walking away with some cash. It means that you are never going to walk away from this game mode empty-handed.
Playing Strategy
Keep your bets low. Your chances of winning the 'fortune' on Mega Fortune are not going to be higher with higher bets, unlike with Mega Moolah. Keep them nice and small. This means that you can play the game for longer, giving you an even bigger chance of becoming a millionaire.
Recommended?
Yes! It does not look good, but boy is it thrilling to play the Mega Fortune slot, particularly if you get into the bonus round and come close to hitting the jackpot.