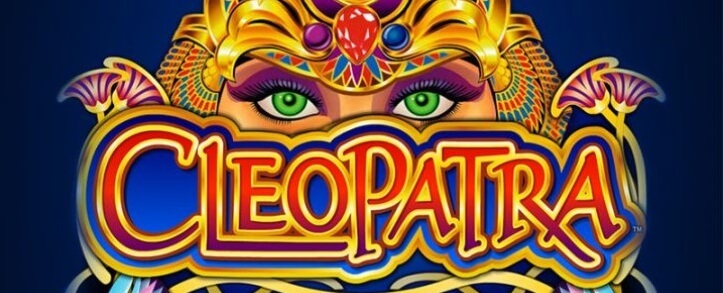 Cleopatra II Slot Review
The Cleopatra slot machine is one of the most popular slot machines in the world. It, therefore, made sense that (eventually) IGT would release an updated version. Welcome to the Cleopatra II slot machine. A huge upgrade on the original. It is more fun too!
How to Play Cleopatra II Slot
The Cleopatra II slot machine boasts 5 reels and 20 paylines. The minimum cost per spin is 20p and the maximum is £100 per spin. This slot machine, as you may well know, is the sequel to what is regarded as the 'most played slot machine in the world'; Cleopatra. In fact, if you go to Las Vegas, you will see people playing the original in casinos everywhere. This means it must be good, right? Yep!
This game, and it is going to be strikingly obvious when you think about it, is based upon Cleopatra, the Egyptian queen. She is often regarded as one of the most beautiful women in history.
I have never seen her. She may be. Anyway, it is personality that counts, and by all accounts she didn't have much of that. The game looks lovely. It is bright and colourful. It isn't the most well-themed slot machine in the world, but it is passable enough. This is a game which has been built for the gameplay, anyway.
As mentioned previously, this is a slot machine which was mainly built to be used in Las Vegas. Slots there need to be simple to use. After all, the casino wants as many people playing them as possible.
This means that you should have no issues playing Cleopatra II, even if you are hopping into slot machines for the first time. The interface is clean and setting out much you need to bet is a piece of cake.
Bonus Rounds & In Game Features
There are a couple of different features in the Cleopatra II slot. The first comes in the form of a wild symbol. Now, you should know how a wild symbol works. If can be found on the reels, it can act as a replacement for any other symbol in the game. In Cleopatra II, if you get 2 wild symbols in a single combination, your prize will be doubled.
The main feature is the Free Spins bonus. In order to trigger this, you will need to get 3 Sphinx symbols on the reels. Right away, you will be given somewhere between 5 and 15 free spins. If you get 4 Sphinx symbols, you will get between 8 and 15 free spins. If you get 5, that is between 10 and 20 free spins.
To us, free spins are good enough, but IGT throw something else in as a sweetener. Each time you use up a free spin, your multiplier will go up by 1. So, on the 5th free spin, your multiplier will be 5! You can continue to earn free spins in the game, up to a maximum of 50. This means that your maximum multiplier will be 50x. This is a huge improvement on the previous game in the series where you got 15 free spins, a 3x multiplier, and told 'that is all you are getting'.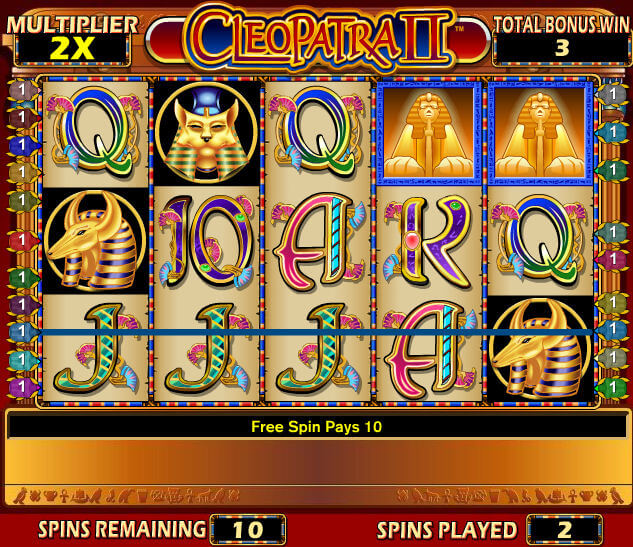 Cleopatra II Mobile Slot
If you enjoy this slot machine, you will love the fact that a Cleopatra II mobile slot machine is also available. Of course, this is an old slot machine, but IGT have done a tremendous job porting it to mobile devices. While desktop version of games will always be our favourite to play, we don't mind mobile games.
This means we have no hesitation in saying that this is easily one of the better games that we have played on mobile devices´. It looks great and the gameplay is smoother than a baby's bum.
Summary – What Do We Think?
If you enjoy slot machines, and we are sure you do otherwise you would not be on this website right now, then you are going to enjoy Cleopatra II. There is a reason why the IGT name is next to some of the most-played slot machines in the world. It is because they know exactly what they are doing.
The Cleopatra II slot machine, in our opinion, is easily better than its predecessor, while still retaining the charm that made the previous game in the series feel so great.
For that reason, we urge you to check out Cleopatra II. You can play the Cleopatra II slot machine on any website which offers IGT slots, see our top casino recommendations below if you're looking for the best welcome offers!
Other Top Casinos Where You Can Also Play This Slot...
5
18+. T&C's
|
BeGambleAware®
---
US Players Not Accepted
30 Bonus Spins + 2 Reload Bonuses Up to £1000
6
18+. T&C's
|
BeGambleAware®
---
US Players Not Accepted
20 Bonus Spins on Book of Dead (upon registration)